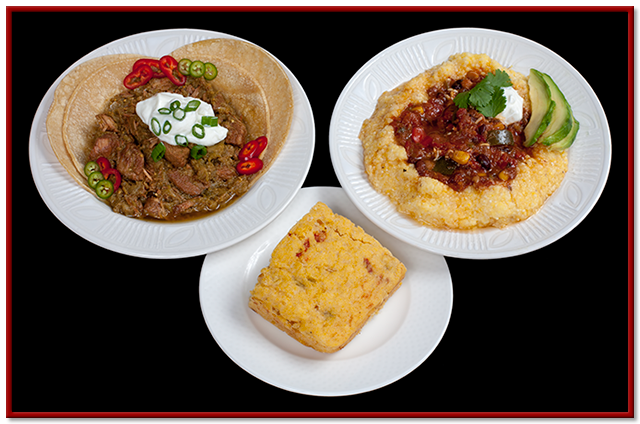 We've been serving up our Chili Verde for 20 years. During this time, our chili has won more than 15 chili cook-offs and in 2011 we were honored at the Marin County Fair with awards for Best Chili con Carne and Best Chili overall. Now that we've retired from the cook-off scene, we're bringing our chili to you through event catering, regional culinary events or delivery right to your door.
We'd like to introduce you to real chili, the chili you dream about.
Traditional Southwest Chili Verde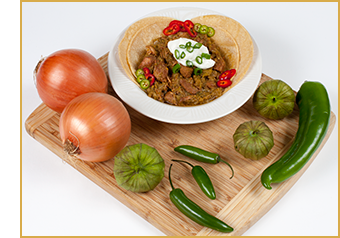 Made from the finest ingredients; lean succulent pork, tomatillos, green chilies, garlic and spices. Our Chili Verde is preservative, additive and gluten free. Simply great chili, now available in 12oz, 18oz and 32oz frozen vacuum sealed kettle bags, delivered to your door or as part of a complete, catered meal.
Don't settle for wimpy vegetarian chili.
Red Veg Chili
Red Veg Chili is a richly flavored, robust red chili, packed full of ripe, tasty ingredients; 5 kinds of beans, fresh green and red bell peppers, jalapenos, corn, zucchini, tomatoes and spices. Our Red Veg chili is100% vegan and is preservative, additive and gluten free. This chili is so complete, even the carnivores at the table will be pleased.
NEW: Red Hen Chili
Our newest chili, Red Hen, is an amazing chicken chipotle chili. Enjoy the smoky taste of flavor-filled dark meat chicken with ripe red jalapeño chilies in a rich red adobo sauce. And like our other chilies, it's preservative, additive and gluten free.
 Order home delivery or catch us at local culinary events!
Kevin and Gail's Chili Palace
There are several ways to get your hands on this great chili. First off, we deliver convenient frozen vacuum sealed kettle bags right to your door. Heat these in boiling water or the microwave, ready when you are. Add some of our cornbread for a complete meal.
If you're hosting a party or event, contact us to arrange for full buffet style drop-off catering. We'll bring trays of food which can include Chili Verde, Red Veg Chili,  Red Hen Chili, Tamale Pies, Cornbread, Polenta, Black Beans, Spanish Rice, Salads, Tortillas and  all the fixings.
You can also find us at Bay Area culinary events and pop-up markets. Check our schedule of events and drop by for a taste. We'd love to meet you!